Mission:
To be Minnesota's top AAU basketball program, not only in intra-state competition,
but also in player development, college exposure, and fun!
The Minnesota Fury will be hosting the 3rd annual Minnesota Fury Shootout on May 18-20 which will be sponsored by Ultimate Hoops Preps. This tournament will be for boys 13U-17U and will be held in Eastview & Eagan, MN. This tourney will be a 4 game guarantee and we already have over 100 teams signed up including....
-MN Fury
-MN Pump N Run
-Dakota Pride
-MN Heat
-43 Hoops
-MN Suns
-MN Comets
-Dakota Heat
-Dakota Phenoms
-Triple Threat
-Court Kings
-MN Glory
Click here for an entry form and if you have any questions, send us an email at
The Minnesota Fury AAU Club focuses on player development through top notch coaching and elite competition. Our coaching staff features more current and former High School head coaches and NCAA Coaches than any other AAU program in Minnesota. Playing with us in the spring/summer is your chance to be coached and taught by the best in the business!
Minnesota Fury Sophomore Blue - 2011 Simply The Best 16U Elite Champions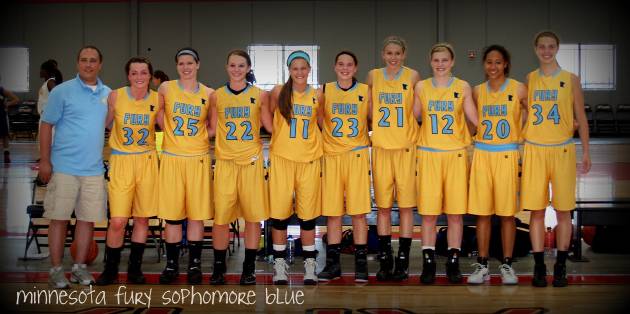 What else sets us apart from other AAU programs?
Energetic and passionate coaches that are committed to creating a positive and enjoyable learning experience.
Easily accessible online stats updated weekly and coaches' commentary to make college exposure easy.
Work Hard, Play Hard, Have Fun Attitude
What is included?
Girls
Two Hour practices Twice a week from Early April to Mid July
2-3 Minnesota Invitational Tournaments
2 District/State Tournaments (Qualifier and Championship)
2-4 Regional or National Exposure Tournaments
Boys
2 Practices twice a week from April-July.
5-6 of the top tournaments in Minnesota.
3-6 of the top Regional/National Exposure Tournaments. (All teams will play in 9-11 tournaments. Schedule is based on age level as we tend to travel more at the higher age levels.)
Founders/Directors

Nick Storm
Founder/Girls Director
612.460.0836



Ben Davis
Founder/Boys Director
612.432.4097



Andy Cerisier
Girls Co-Director



Scott Miller
Girls Co-Director - Southeast Minnesota
507.460.FURY



Tim Peper
Girls Co-Director